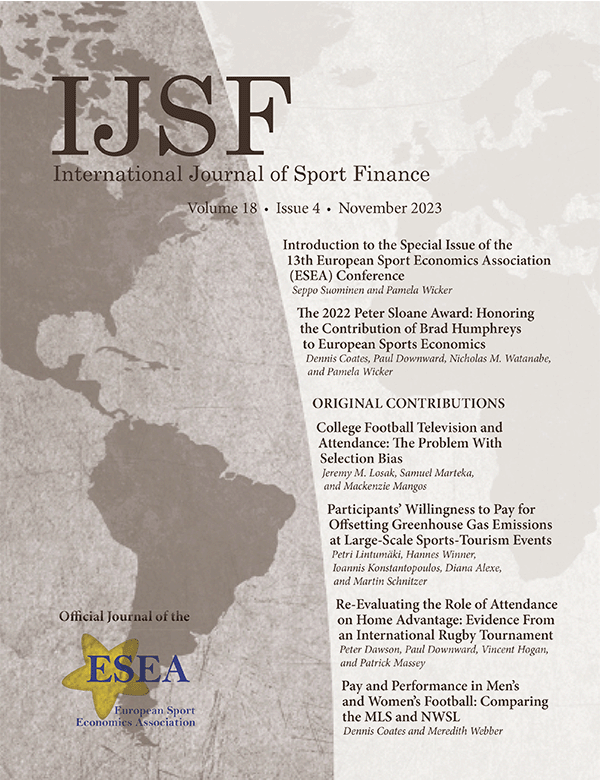 Articles
Introduction to the Special Issue of the 13th European Sport Economics Association (ESEA) Conference
Authors:
Seppo Suominen and Pamela Wicker
Seppo Suominen and Pamela Wicker serve as guest editors for this special issue of the International Journal of Sport Finance (IJSF). Suominen and Wicker introduce the issue, which showcases a collection of selected papers presented at the 13th European Sport Economics Association (ESEA) Conference.
The 2022 Peter Sloane Award: Honoring the Contribution of Brad Humphreys to European Sports Economics
This essay reiterates the award ceremony of the 2022 Peter Sloane Award (PSA), which was held at the conference dinner on August 25, 2022, at the ESEA Conference in Helsinki, Finland.
College Football Television and Attendance: The Problem With Selection Bias
Television coverage's impact on college football attendance is a topic of debate. Between 2005 and 2019, annual growth in athletic department revenues for Football Bowl Subdivision (FBS) schools from media rights, postseason football, and National Collegiate Athletic Association (NCAA) conference distributions far exceeded revenue growth in ticket sales revenue. This study re-evaluates the substitution or complementarity of television coverage and stadium attendance in college football with updated data while controlling for selection bias through endogenous treatment regression. Although initial results reveal a positive correlation between television coverage and attendance, national coverage and attendance appear to be substitutes after controlling for selection bias. That said, from an attendance maximizing perspective, national coverage is preferable to lower-tiered coverage if a game is to be televised.
DOI: https://doi.org/10.32731/IJSF/184.112023.01
Participants' Willingness to Pay for Offsetting Greenhouse Gas Emissions at Large-Scale Sports-Tourism Events
Authors:
Petri Lintumäki, Hannes Winner, Ioannis Konstantopoulos, Diana Alexe, and Martin Schnitzer
This paper aims to explore participants' willingness to pay (WTP) for offsetting greenhouse gas (GHG) emissions associated with their participation in the World Winter Masters Games 2020 (WWMG20) in Innsbruck, Austria. We collected data from an online survey sent to participants at the event and used the contingent valuation approach to determine participants' WTP and a set of alternative regression models to investigate the factors that mainly influence WTP. Our results show that the median WTP for offsetting GHG lies within a range of EUR 10 (lower bound) to EUR 20 (upper bound). Furthermore, WTP is positively influenced by participants' attitudes toward climate change, their perception of the event as environmentally friendly, their level of education, as well as their overall expenses for traveling to the WWMG20.
DOI: https://doi.org/10.32731/IJSF/184.112023.02
Re-Evaluating the Role of Attendance on Home Advantage: Evidence From an International Rugby Tournament
Authors:
Peter Dawson, Paul Downward, Vincent Hogan, and Patrick Massey
Home advantage has been documented in many sports. It is hypothesized that higher attendance, likely dominated by home-team supporters, can be a source of this advantage, either through influence on match officials or by spurring the home team to greater efforts relative to the away team. We examine this latter hypothesis using a dataset of 1,030 matches over eight seasons, 2012/2013 to 2019/2020, of the Pro14, one of the three major European rugby union leagues. Our results initially display strong evidence of home advantage. However, once we control for team quality, home advantage is significantly reduced. Further, our results also indicate that home advantage is not explained by the impact of attendances on team performance (effort).
JEL Codes: D91, L83, Z20
DOI: https://doi.org/10.32731/IJSF/184.112023.03
Pay and Performance in Men's and Women's Football: Comparing the MLS and NWSL
Authors:
Dennis Coates and Meredith Webber
The purpose of this research is two-fold; first, to assess whether men and women football players "perform the same work," as required for wage discrimination, and second, to compare pay and performance for men and women players in the top professional soccer leagues in the US. We utilize data from Major League Soccer and the National Women's Soccer League over the period 2016 through 2019 to compare how performance translates into team success in the two leagues and to forecast the salaries of women players for comparison with the men. Our results show that the determinants of win production are the same for the men's and women's teams, indicating that men and women do similar work. Additionally, the average woman player would earn more than the average male player if performance were compensated the same way in both leagues for the same number of games.
Subscribe Now